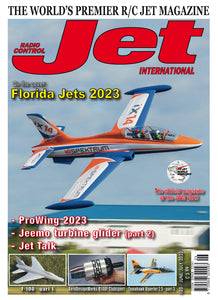 This issue of Radio Control Jet International (RCJI) magazine is a packed edition with jet and turbine reviews, plus the latest news from across the world. 
Contents Include
FLORIDA JETS 2023 - One of the biggest jet events in the world

F-100 SUPER SABRE - Grumania's high quality Super Sabre kit

JET TALK - Dave's R/C jet life chat

PROWING 2023 - Great models, great flying....a great show!

TOMAHAWK VIPERJET 2.5 - Part 3 - Classy composite sport scale jet!

AeroDesignWorks B140F Clubsport - The fastest accelerating turbine RCJI have ever run is tested

LAURENS CONCEPT STORY - A family's passion

FORMATION CUP 2023 - A unique jet formation competition

JEEMO - Part 2 - Advanced jet glider with internal turbine

ROAD TO THE JET WORLD MASTERS 2023 - The IJMC Italy team

GAS TURBINE PERFORMANCE COMPARISONS - Up to date engine data
This is a genuine printed copy from the original production run that has been stored in our warehouse since it was first issued.
Please take care to select the correct postage location from the dropdown options above.