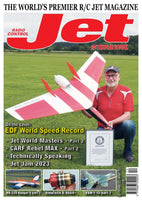 In the latest Issue of Radio Control Jet International...
Fastest EDF in the World
Hangar 9 MB-339
Technically Speaking - Air Systems
Jet Jam 2023 - EDF Event
Kingtech K-86G4+
BVM F-15 (Part 2)
14th Jet World Masters (Part 2)
CARF Rebel Max (Part 2)
Composite RC Gliders GMBH
Gas Turbine Performance Comparisons
Buy the latest issue online now!
About the magazine and our team...
Radio Control Jet International is the leading international magazine for the RC jet enthusiast. Our editorial team 'live and breath' model jets and with a combined 50 years of modelling experience from the era of I/C ducted fan up to today's large composite turbine masterpieces.
We use our knowledge and connections to bring you an insight into the latest developments and newest products from across the world in a handy printed format. We print RCJI ever other month to ensure that each issue is packed with high quality content.
Show Reports

We travel to the world reporting on competitions and shows.
Testimonials
I have been a big fan of RCJI for over 2 decades now. For me it has always been my go-to source of what's new and happening in the jet scene, with the best events coverage and an amazing reference for real life turbine data, keep up the good work team!

Ali Machinchy
I find RC Jet International a very interesting magazine, always filled with news and current affairs from over the world. Its great!

Markus Rummer
If you want to find out about the latest developments in model jets, the best way is to read RC Jet International!!! I'm happy to publish my articles for jet enthusiasts in the pages of RC Jet International - a unique place to exchange information between jet modellers.

Vitaly Robertus