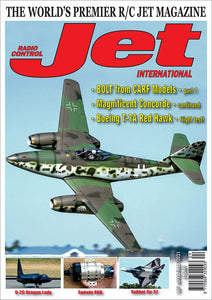 This issue of Radio Control Jet International (RCJI) magazine is a packed edition with jet and turbine reviews, plus the latest news from across the world. 
Contents Include
Lockheed U-2C Dragon Lady (Part 1) - The making of the Top Gun 2020 winner

Swiwin 80B - RCJI's first test of a Swiwin turbine

BOLT from CARF Models (Part 1) - Hyper fast and...smooth!

CONCORDE (Part 7) - The largest R/C jet in the world!

SUKHOI Su-57 - Building, failing and then...success!

BOEING T-7A RED HAWK (Part 3) - JMB Jets scale replica of the new USAF jet trainer

IJMC - International Jet Model Committee - News from the IJMC

Dreamworks Model Products - The story of a modelers' heaven!

Sebart L-39 - Making a great little model even better!

GAS TURBINE PERFORMANCE COMPARISONS - Up to date engine data
This is a genuine printed copy from the original production run that has been stored in our warehouse since it was first issued.
Please take care to select the correct postage location from the dropdown options above.