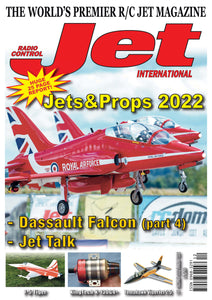 This issue of Radio Control Jet International (RCJI) magazine is a packed edition with jet and turbine reviews, plus the latest news from across the world. 
Contents Include
JETS & PROPS - The worlds greatest jet event is back!


DASSAULT FALCON (Part 4) - The business jet at 1:4.5 scale!


NEWS FROM THE IJMC


KINGTECH K-130G4+ - RCJI tests the latest addition to the KingTech turbine range


JET TALK - Dave's R/C jet life chat


TOMAHAWK VIPERJET 2.5 (Part 1) - Classy composite sport scale jet!


F-5 TIGER (Part 1) - FlyFly's foam fighter under review


RAPID EYEWEAR MODEL GLASSES RANGE - Great range of sunglasses developed for model flyers


GAS TURBINE PERFORMANCE COMPARISONS - Up to date engine data 
This is a genuine printed copy from the original production run that has been stored in our warehouse since it was first issued.
Please take care to select the correct postage location from the dropdown options above.