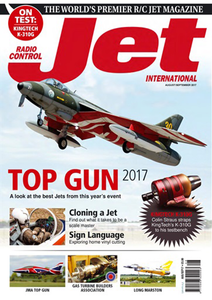 This back issue of Radio Control Jet International (RCJI) magazine is a genuine printed copy from the original production run that has been stored in our warehouse since it was first issued.
Please select the correct postage location from the dropdown options above.
Contents Include
KINGTECH K-310G - Colin Straus straps KingTech's K-310G to his test bench
SEBART AVANTI XS - PART 2 - After an enjoyable assembly, Colin Straus maidens the Avanti XS and finds it a delight to fly!
SNOW HOG - Dan Eaton checks out one of E-flite's latest micro EDF offerings, the UMX A-10 Warthog, and dresses it in an unusual colour scheme
TOP GUN USA - Barry Vaught reports on all the action from one of the top international R/C aeromodelling events
SIGN LANGUAGE - Ian Titchell takes a brief look at the background of vinyl cutting and then explores the Silhouette Cameo cutter
CLONING A JET - Karen and Jorge Escalona find out what it takes to create a scale jet for Top Gun in the first of two parts
GAS TURBINE BUILDERS ASSOCIATION - A look at the current state of the Gas Turbine Builders Association, and what it offers and does for the jet community
JMA TOP GUN - The event report from the JMA Top Gun meet at RNAS Merryfield
LONG MARSTON - Some fantastic jets were on display at this popular UK airshow
FROM THE COCKPIT - A look at what is in this issue as well as the latest news from around the R/C Jet world
JET CHATTER - Dave Wilshere returns with another summary of all the latest happenings in the R/C Jet world!
GAS TURBINE PERFORMANCE COMPARISONS - Summary of performance of engines tested by RCJI