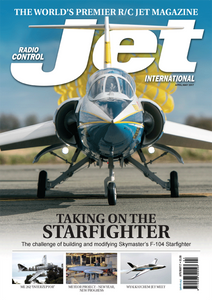 This back issue of Radio Control Jet International (RCJI) magazine is a genuine printed copy from the original production run that has been stored in our warehouse since it was first issued.
Please select the correct postage location from the dropdown options above.
Contents Include
From The Cockpit - New team in the hot seat as we move into 2017, and other news and views from the jet modelling world
Gas Turbine Performance Comparisons - Summary of performance of engines tested by RCJI
Taking on the Starfighter - Alex Jones of The Little Jet Company steps up to the challenge of building and modifying Skymaster's excellent F-104 Starfighter kit
STV-Tech - In this company profile Colin Straus follows up an initial introduction at JetPower 2016 to find out more about STVTech's current range of accessories for the jet modeller
Technically Speaking - In the last few years jet models have been getting steadily larger in size, more complex and more twin engined aircraft are being flown, perhaps due to the incredible reliability and simplicity of operation of modern model gas turbine engines, so to aid operators of twins. David Gladwin looks at the theory behind asymmetric flight
Flight of the Interzeptor - Bruce Corfe takes a look at a superb Me 262 model, made in Germany but currently flying in Australia, that is based on a rather special and unique prototype
WestJets at Windy Wyalkatchem! - We always love hearing about the jet scene down under, so Bruce Corfe visits a Jet meet on a windswept airfield somewhere in Western Australia!
Meteor Project - New Year, New Progress As the project moves forward into early 2017 new tasks have been met and completed, with clear progress towards build completion and maiden flights
ATJ 190SV Turbine - Dave Swarbrick has been impressed with ATJ's 170 engines over the years, so he was more than happy to try out their new 190SV turbine in his Excalibur+
A Workshop Layout For Jet Modelling - We all dream of a large and accessible work area, so Ian Titchell takes a look at workshop layouts for jet modelling, and suggests what you can do when you have limited space available
Bang Seat - A 3D Modelling and Printing Project In the first part of a new series Mal Luff looks at how to get started in 3D printing for aeromodelling, which culminates in printing out your very own Ejector Seat!
Jet Chatter - In this month's column Dave Wilshere discusses turbine restarting systems, gyros and his own CARF EDF Hawk