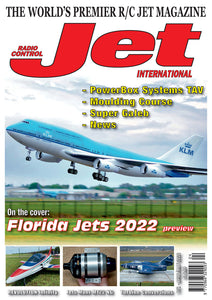 This issue of Radio Control Jet International (RCJI) magazine is a packed edition with jet and turbine reviews, plus the latest news from across the world. 
Contents Include
SUPER GALEB (Part 2) - A different subject from TopRC

MOULDING COURSE - The fundamentals of advanced fibreglass moulding

REVOLUTION Infinity - The "big one" of the Revolution family

POWERBOX SYSTEMS TAV - True airspeed variometer from Powerbox

EDF TO TURBINE CONVERSIONS (Part 2) - Let's talk about it!

NEWS FROM THE IJMC

JETS MUNT M122 NG - New, compact and powerful turbine under test

JET TALK - Dave's R/C jet life talk

JET PRODUCT NEWS - News from the market

JET JAM 2022 - A popular jet event in California

FUTABA DLPH-1 - The new receiver and battery backer from Futaba

HOW TO MAKE A TRAILER - The "Airbus transporter"

GAS TURBINE PERFORMANCE COMPARISONS - Up to date engine data
This is a genuine printed copy from the original production run that has been stored in our warehouse since it was first issued.
Please take care to select the correct postage location from the dropdown options above.