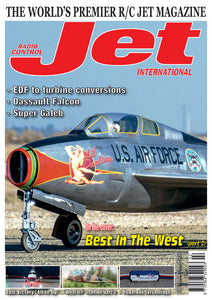 This issue of Radio Control Jet International (RCJI) magazine is a packed edition with jet and turbine reviews, plus the latest news from across the world. 
Contents Include
DASSAULT FALCON (Part 1) - The business jet at 1:4.5 scale!

THE POWERBOX SERVOBRIDGE - Real time servo performance testing made easy

EDF TO TURBINE CONVERSIONS - Let's talk about it!

BEST IN THE WEST 2021 (Part 2) - Concluding report on one of the biggest R/C jet events in the world

TOMAHAWK AVIATION EPIC VICTORY - Adding lights to the Epic Victory

JET TALK - Dave's R/C jet life talk

SUPER GALEB (Part 1) - A different subject from TopRC

KRILL MINI ARES - A compact and high quality composite sport jet

WHAT IF? (Part 3) - How to create a color scheme that looks scale but...isn't!

AN EASY WAY TO MAKE A RUNWAY - How to make a perfect runway....with "mulching sheets" 

GAS TURBINE PERFORMANCE COMPARISONS
This is a genuine printed copy from the original production run that has been stored in our warehouse since it was first issued.
Please take care to select the correct postage location from the dropdown options above.