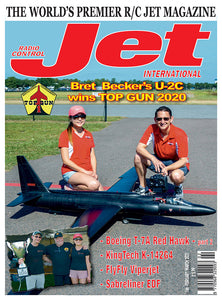 This issue of Radio Control Jet International (RCJI) magazine is a packed edition with jet and turbine reviews, plus the latest news from across the world.

Contents Include
FRANK TIANO - Remembering Mr. Top Gun
TOP GUN 2020 - The world's most important annual scale competition
THE SPECIALISTS - RCJI interviews Trond Hammerstad - Exact Aircraft
SABRELINER EDF - A scale replica of Bob Hoover's twin jet
BOEING T-7A RED HAWK (Part 2) - JMB Jets scale replica of the new USAF jet trainer
KINGTECH K-142G4 - RCJI tests the new addition to the KingTech range
CONCORDE (Part 6) - The largest R/C jet in the world!
TECHNICALLY SPEAKING - David Gladwin's hints and tips
VIPER JET - Colin Straus reviews FlyFly's replica of this popular jet
This is a genuine printed copy from the original production run that has been stored in our warehouse since it was first issued.
Please take care to select the correct postage location from the dropdown options above.