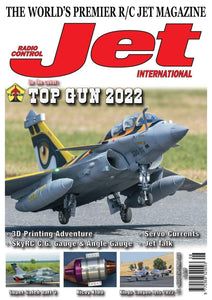 This issue of Radio Control Jet International (RCJI) magazine is a packed edition with jet and turbine reviews, plus the latest news from across the world. 
Contents Include
Top Gun 2022 - Most Importnant Scale Competition
XICOY X180 - Gaspar's Latest Engine
3D Printing Adventure - Chat About 3D Printing
HSD F-86 Sabre - Golden Era EDF
Servo Currents - Real Time Servo Performance Testing
Kings Canyon Jets 2022 - Jet Event in California
Super Galeb (Pt2) - Different subject from TopRC
Dassault Falcon - 1:4.5 Scale Business Jet
SkyRC C.G. Gauge & Angle Gauge - Easy Jet Setup
Jet Talk - Daves R/C Jet Life
RBC Kits Fouga Magister - 2m Wingspan EDF Kit
Gas Turbine Performance Comparisons - Updated Engine Data
This is a genuine printed copy from the original production run that has been stored in our warehouse since it was first issued.
Please take care to select the correct postage location from the dropdown options above.